150! This week is the 150th week of MakeoverMonday the social data project. Here's a massive CHEERS to everyone who has been part of this journey. Whether it's your first viz or your 150th (Charlie and Andy), each of you has helped make this project what it is today and we're very very grateful for the community that has formed around the passion to improve the way we visualize and analyze data, one chart at a time.
For week 46 of 2018, and week 150 in total, we asked you to visualize diversity in tech based on a viz by David McCandless.
We were excited to see so many people participating and embracing the topic. It's important to have an ongoing discussion about diversity, all aspects of diversity, and by making it a theme for MakeoverMonday, we all have the opportunity to contribute to the conversation and make a difference. How? By pointing to the issues, highlighting where changes are well overdue and by offering our own perspective on things.
Thanks to everyone who took this challenge on and created a visualization of the data that showed the diversity, or lack thereof, in tech and social media companies. It was great to see many new participants and a larger proportion of women than we normally have. Kudos to you all!
I really enjoyed seeing the different approaches, the designs and varying viewpoints you provided for this dataset.
The weekly recap wouldn't be complete without a couple of lessons learned based on the submissions we saw.
LESSON 1: SCALING IS IMPORTANT
While most people who used diverging bar charts synchronized the axes correctly, the scale of the axes were often not equal. Let's have a look at the following image from Anna Ivanova, submitted for Viz Review:
What we suggested to Anna is that the axes should be the same length on both sides. Why? Because the axis for the female % is shorter, so the 54% pink bar at the bottom fills up a proportion of the available space on the left, as the 83% blue bar on the top right. This, at first glance, makes me think that the problem is less significant than it is.
What we need is the white space on the left side to really see the difference.
Anna updated her viz after Viz Review to make the diversity issue more obvious:
LESSON 2: ITERATE
The biggest benefit of participating in #MakeoverMonday is undoubtedly the feedback you can receive from people around the globe. These are knowledgeable, passionate people who are on the same journey and who can help you improve your work each week. Reaching out via Twitter and data.world are two options and of course, you're always welcome to join Viz Review.
The feedback we and others give is intended to help you grow your skills, see your own work from a different angle and to help you understand the fundamentals of data visualization as well as more advanced concepts.
We are delighted by every #MakeoverMonday version 2 we see people submit after they had input from the community or through our webinar. If you've never joined Viz Review, sign up for next week's webinar here. Not only do we provide constructive feedback on the vizzes submitted, we also do a live demo with the dataset of the week to show how quickly and easily you can create an effective visualization – in 10 minutes.
Many participants join Viz Review, even if they didn't submit a viz. Why? Because they learn from the critique we provide to everyone else. You get to view 60min of feedback on a variety of vizzes, hear our comments and take these points on board – from the comfort of your desk, couch, bed or the beach. Easy! (and a great option if you're not sure whether you want our feedback: tune in and you'll find out we're not that scary 😉 )
This week, we saw a number of people iterating on their work, making changes based on our suggestions. This typically results in vizzes that tell the story more clearly, are simpler, less cluttered and easier to understand.
See for yourself:
We suggested to Ryan Soares that the two sides of the chart look very balance – where is the diversity issue?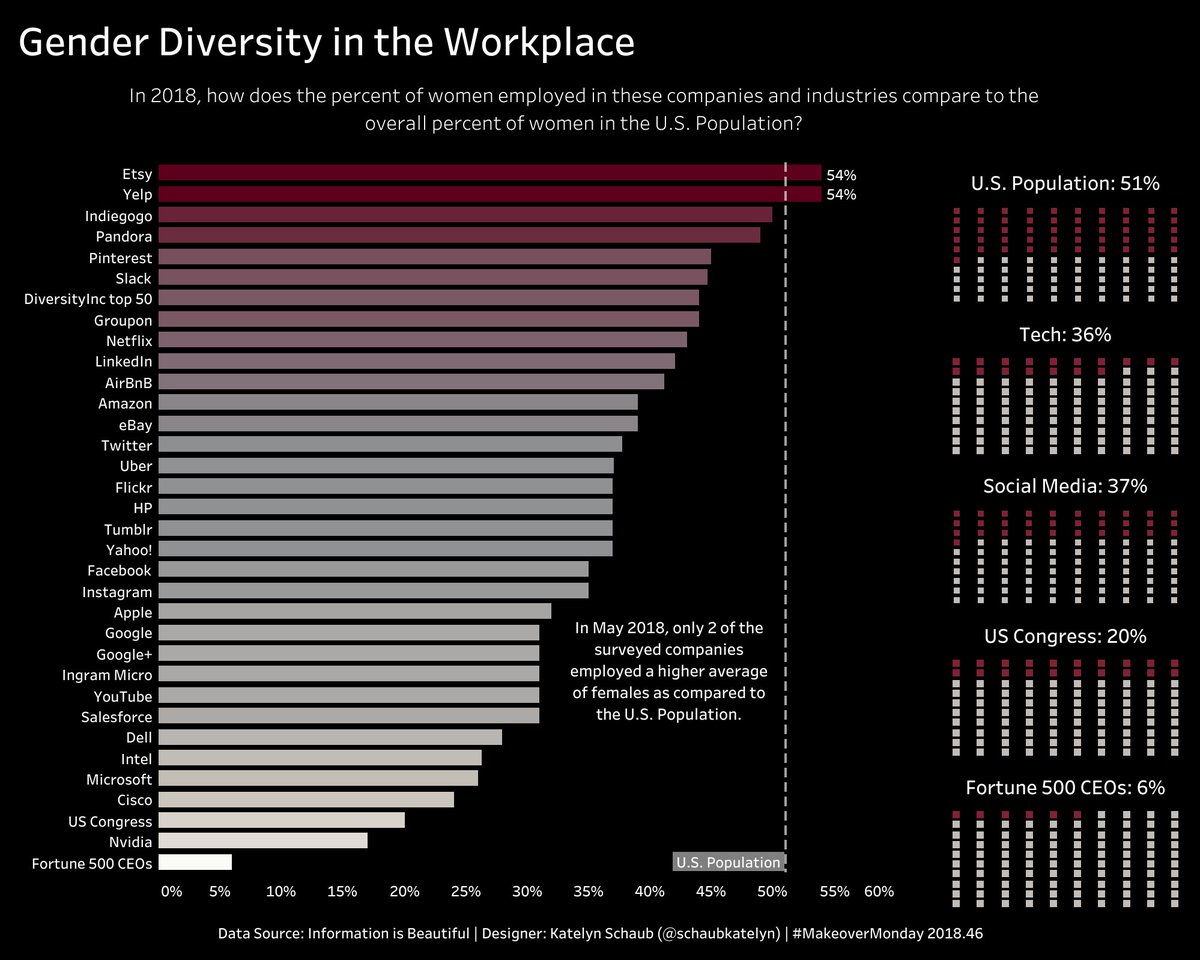 For Katelyn we suggested that the colors might be better if reversed, to indicate more diverse companies as white and those that are less diverse as red. We also commented that the waffle-esque chart on the right side wasn't adding much value to the overall story
Seeing these before and afters with small changes that make a real difference will hopefully encourage some of you to to take as much as possible out of Makeover Monday by asking for feedback and revisiting your first submissions.
Now it's time for….
FAVORITES