A week out from TC18 and we used a dataset about women in the House of Representatives to analyze and visualize the increase of women's seats in Congress over time.
First up I want to say well done to everyone. We had a large number of participants once again this week and saw a lot of great visualizations being submitted. I also want to say thanks to those who gave each other feedback and helped others improve their work and think through their designs.
We're both really excited about our upcoming Makeover Monday live event at TC and hope to see many of you there. Please stop us in the hallway if you see us and say hi. We love meeting people from the community :-).
For this week's lessons I am picking up a couple of thoughts from Viz Review, things that stood out during the webinar and I hope you'll find these useful for your next dataviz projects and challenges.
LESSON 1: CARRY YOUR MESSAGE THROUGH YOUR VIZ
This week we noticed a few submissions which promised to focus on women in Congress, but then didn't really focus on women and had their message diluted by other topics.
While it is perfectly fine to introduce additional information and perspectives to give your audience context, make sure that viewers don't get confused by a change in focus as they read through your viz.
One example came from Paul McHale and we reviewed it during Viz Review. His submission focused on female representatives but after the title came a chart about male representatives. I understand why that was, because the layout of the chart was such that men appeared at the top. I suggested that this was confusing, because after reading his title I expected to hear/read/see something about women and not about men. Paul seemed to agree and made some changes on a revised version.
It is perfectly fine to include the story about male representatives in the viz and many others took a similar approach. Our suggestion is simply to ensure that A story about women should focus on the women first and foremost and clearly indicate that the contextual information about men is exactly that: contextual. It shouldn't take center stage.
And in case you're wondering, if we replace women and men with cats and dogs, the same suggestion still holds true. A story about cats that starts by talking about dogs will confuse the audience :-).
LESSON 2: LEFT VERSUS RIGHT
Another suggestion we made for a number of visualizations is that in a vertical layout, such as a diverging horizontal bar chart with parties on the left and right side of the center, the Democratic Party should be displayed on the left, while the Republican Party should be on the right side. Why? Because that's the sides of the political spectrum they represent and it just makes sense.
While most viewers may not be put off by a viz which shows them the other way around, these kind of details show that you fully thought-through your viz and how it will be perceived by your audience.
Check out this example from Dorian Banutoiu who swapped his chart around after we gave him feedback during Viz Review.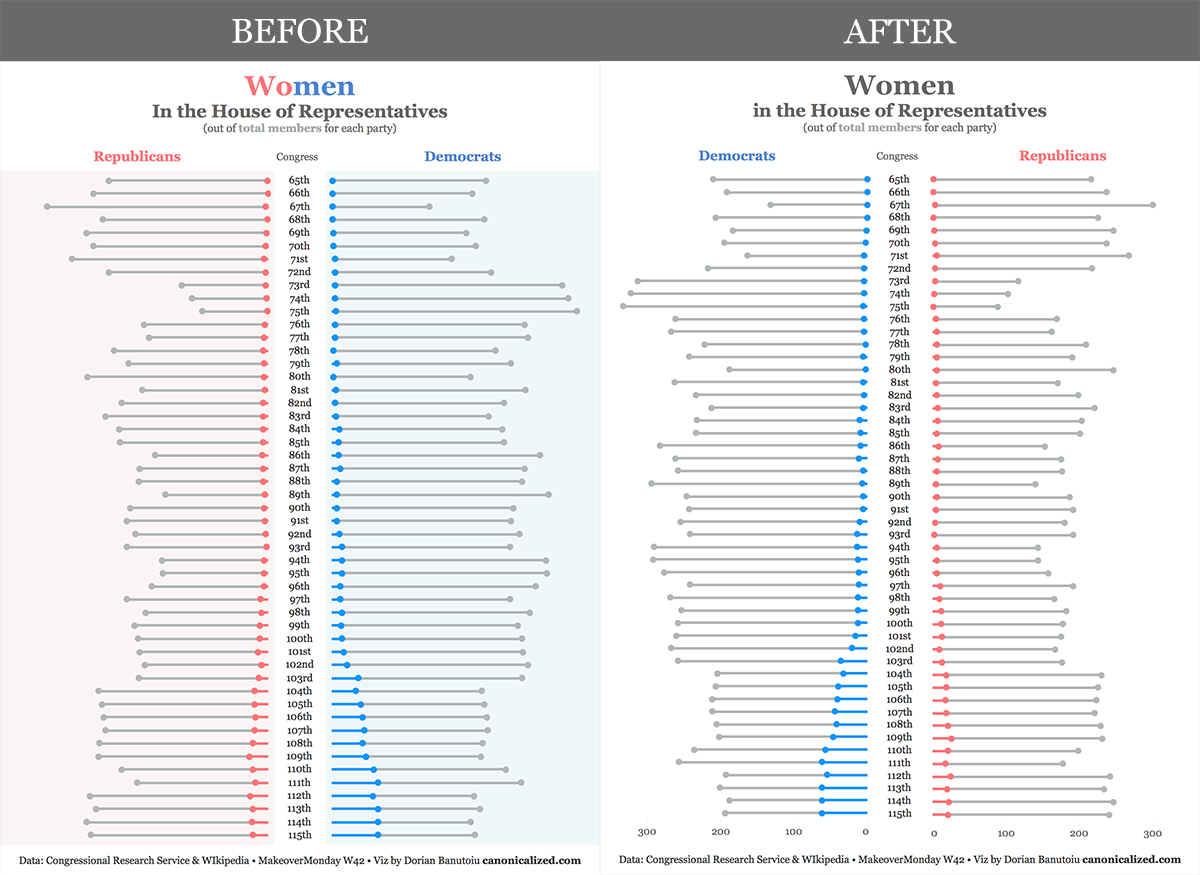 Following these two simple lessons, let's get to the favorites. Again, this week brought out many excellent visualizations so I want to feature a number of favorites in this next section.
FAVORITES