202 million records powered by Exasol…that's what we had in store for the Makeover Monday community this week and, needless to say, they absolutely crushed it! I had just commented to Eva on Tuesday that I was worried that maybe the data sets were becoming too complicated, then suddenly…
BAM!!
Dozens and dozens of great vizzes flooded my Twitter feed. There are some seriously talented people out there! This week everyone was pretty switched on, so I'm going to focus this week's lessons on the positives.
LESSON 1: TAKE YOUR TIME
Complicated data sets take time to understand, especially those that have 202 million rows. We see people apologizing on Twitter every week for "being late". There's no timeline for Makeover Monday; do it when you can and post when you're done. This week in particular, we saw many more entries AFTER Monday than we normally do and many people commented about the time it took to really understand the data.
Analysis takes time. Don't be overanxious. Make sure your calculations are accurate. Verify your numbers. Slow down.
LESSON 2: FINDING A STORY
Finding a story can often go hand in hand with taking your time. Finding the story and then telling the story visually, in a compelling well, is not an easy task. Often the best way to get your story across is through the use of context and annotations that guide the reader. Let's look at two examples.
Michael Mixon was one of those people that really took his time this week and you can tell by the quality of work he produced. He took the time to find a story in this complex data.
Not only did he find a story, he communicated it perfectly. Michael starts with a question: How often has our air quality been "not good"? The rest of the story unfolds from there.
If you want to get better at data visualisation, follow Michael's work.
Curtis Harris took a slightly different approach than Michael. Rather than starting with a question, Curtis started with a declarative statement: Air quality measurements in the United States show decreasing variability and indicate decreasing quality. Curtis then instructs the reader on how to interpret the viz.
This technique helps prepare the reader before they digest what they are seeing. He then carefully summarizes each section of the viz, tying it back to his initial statement.
LESSON 3: MAKE IT PERSONAL
Data visualisation can be very fun when the data is meaningful to you. When you're learning, work with data that interests you. This will help keep you engaged, keep you excited, keep you wanting to learn more. This week, we saw lot of people focusing the data on where they live to help inform themselves and those that live near them.
Mark Bradbourne focused on California, which despite having the highest pollution levels, has done the most to address the problem. You can tell Mark took great care to make this personal, or at least personal to those in California. He found an interesting story and designed his viz in a way to tell that story.
LESSON 4: DON'T BE AFRAID TO EXPERIMENT
This week it seemed like there were a lot of people trying new techniques or new chart types. Broad, deep data sets are perfectly for learning, exploring and testing your capabilities. We're all a friendly bunch; we applaud people when they try something new, even if it doesn't work out.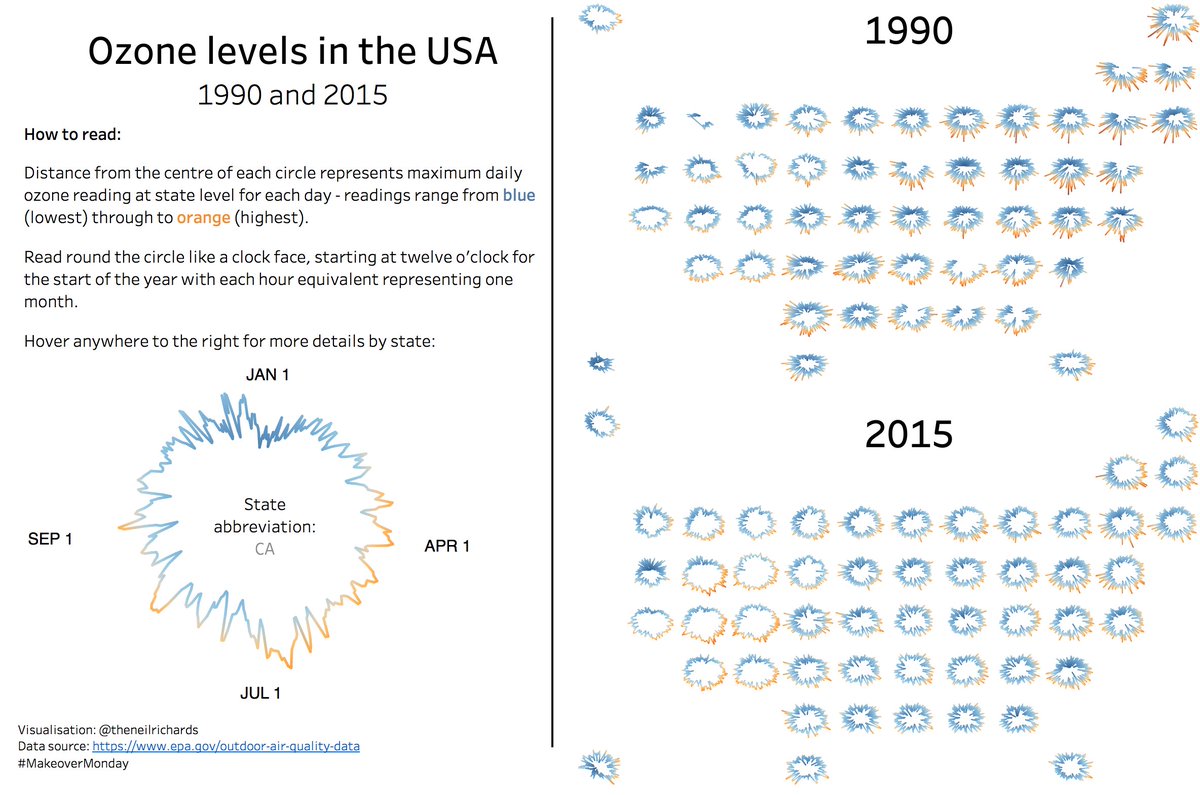 Neil Richards created this amazing spiral visualisation, taking inspiration from others and learning along the way.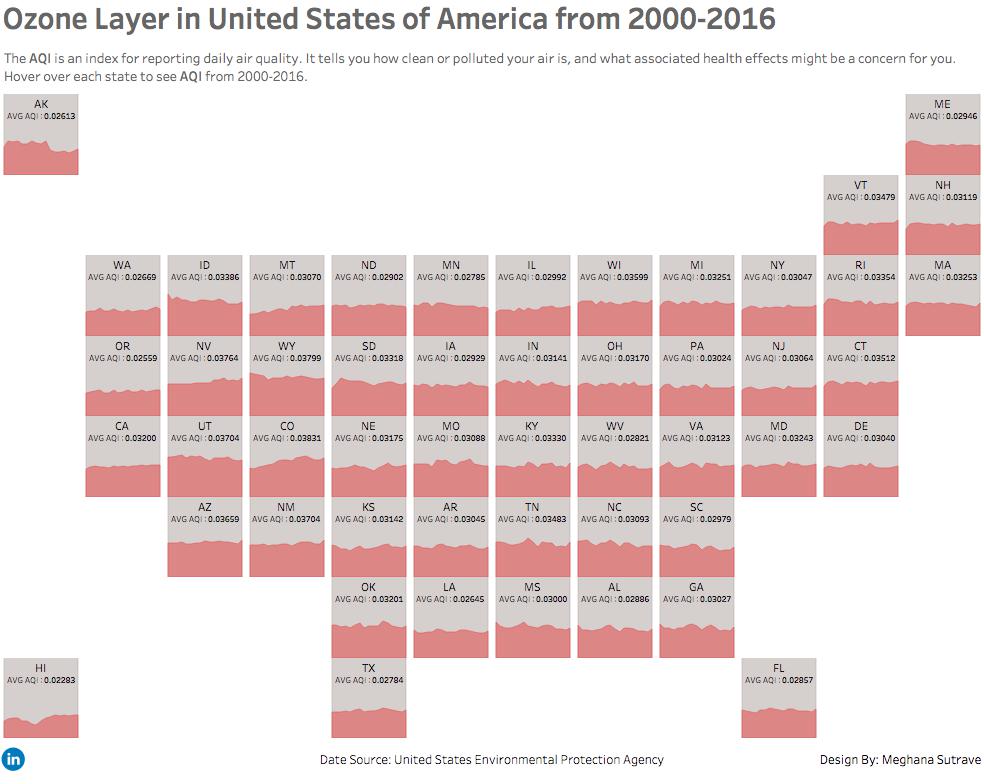 LESSON 5: ITERATING ON FEEDBACK
The feedback we give each other in the Makeover Monday community sets us apart from other projects. We want to see each other improve and a big part of that is giving and receiving feedback. Many people this week took aboard feedback and adapted their visualisations. Nearly all the time, when the feedback is given in a constructive, informative manner, the recipient will be grateful and use it as an opportunity to improve.
Take a look at how Wale Ilori iterated on his work this week. Nothing overly complicated, just simple color changes that made a big difference.
What an incredible week! As you can see from the vizzes I've highlighted so far, the Community's contributions have been outstanding. I've had so much fun looking at them all! Without further ado, here are a few more of my favorites from week 25.
Author: Athan Mavrantonis
Link: Tableau Public
What I like:
Small multiples design
Nice color choices
Explanation at the top before you get to the viz
Conclusion at the bottom with takeaways
Simple, effective tooltips
Shows seasonal patterns really well
Author: Steve Wood
Link: Twitter
What I like:
Simple title that explains what we're seeing
Good subtitle that provides the detail and context behind the viz
Nice colors
Heatmap really shows patterns well
Listing the States alphabetically makes them easy to lookup
Simple headers and axis titles
Limiting the years to be compared simplifies the viz
Author: Pooja Gandhi
Link: Tableau Public
What I like:
Incredible design! This could easily be in a magazine.
Terrific annotations to guide the user
Excellent interactivity
Breaking the visualisation into sections
Nice color choices
Including the averages on the dot plot for context
Great use of a high-density dot plot with jittering
Beautiful legend
Author: Paweł Wróblewski
Link: Twitter
What I like:
Informative title
Simplicity of the design
Focusing on a single county for an easier to tell story
Using a comparative metric rather than the actual value, making all of the months contextual to each other
Using shades of red to represent "heat"