What a way to kick off May!
This week I had the honour to facilitate and co-host not just one but two live MakeoverMonday events in Sydney.
As the community continues to grow and the project is picking up momentum among Tableau enthusiasts and dataviz people across the globe, running a these meetups in Sydney was a great way to connect with the Australian data visualization community.
Andy and I are passionate about this project and really enjoy helping others along the way to make difference and tell better stories with data. I'm sure I speak on behalf of Andy as well when I tell you how excited I was to meet so many people in Sydney of whom quite a few hadn't heard of or participated in Makeover Monday previously.
To give you a better idea of what we got up to with Tableau and data in the land of Oz on this fine first day of May, let me show and tell you about that day.
We kicked things off at Westpac Bank where Kai Cheah hosted a meetup for his colleagues and Tableau users from other Tableau customers. Kai has setup an internal Makeover Monday session as a way for his team to continue challenging themselves with new and different data on a regular basis and to continuously grow their Tableau community.
We had a group of 20 people gathering to visualize and discuss the Sydney ferry dataset for this week. I started by introducing the project again and presenting how we run the project and why we do what we do.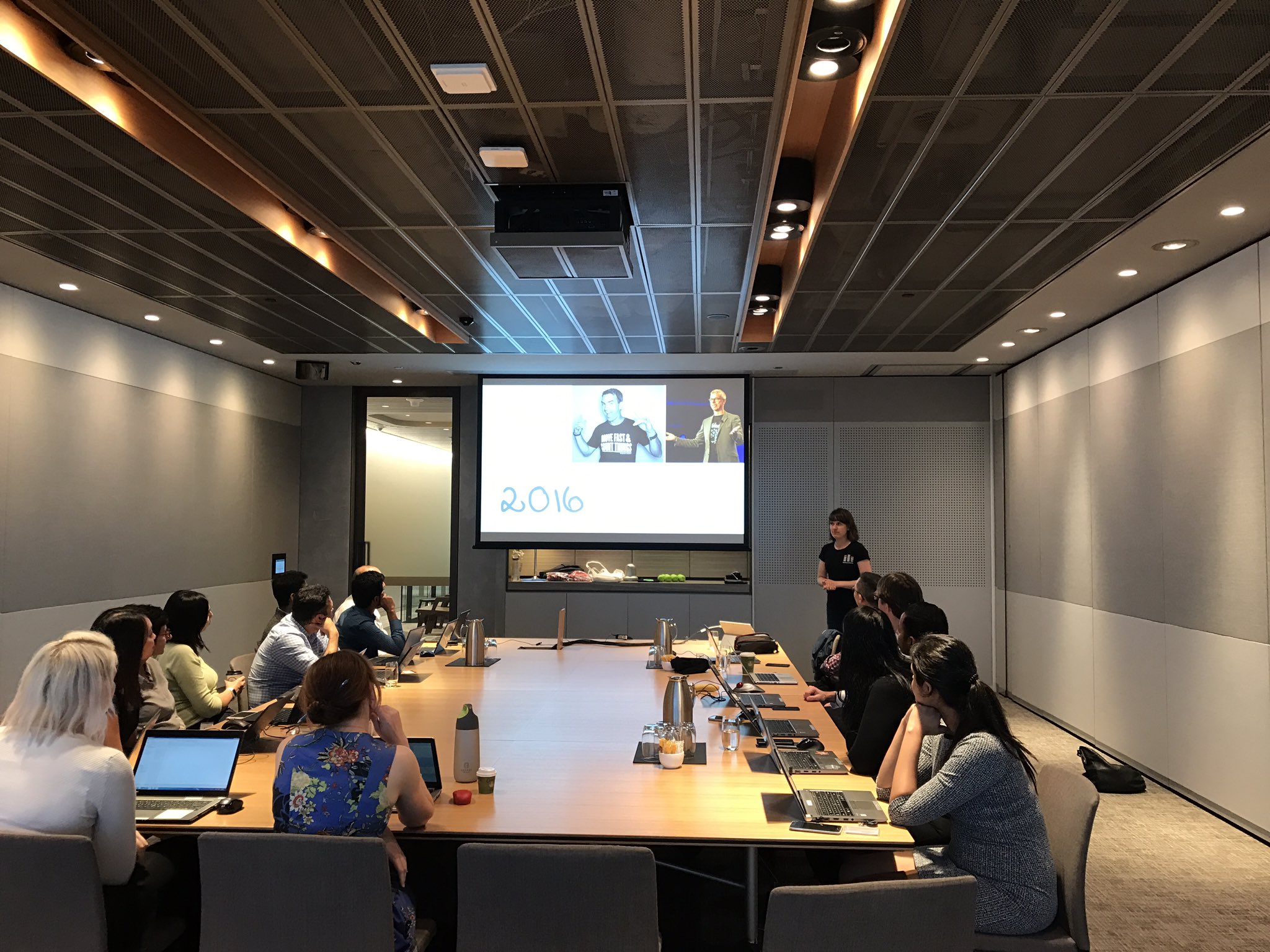 Then everyone started building their vizzes and we set ourselves a 60min limit. Especially in these live sessions it's important to have a deadline so that afterwards there is enough time to discuss and present.
Yes, people 'had to' present their work afterwards. And I didn't even have to volunteer someone, a lot of the participants quite happily shared what they did, why and how. It was great to have such an engaged audience and I enjoyed watching their progress over the hour of 'vizzing' and then seeing the end result and hearing them describe the steps they took. We also discussed and critiqued the original viz and there was a healthy discussion about colours, chart types and effective story telling with data.
In the end everyone had successfully created a makeover of the Sydney ferry data, had met new people and most of the group also published their results to Tableau Public (I'm sure the others will as soon as they sign up 😉 ).
Before long we had come to te end of a 3 hour afternoon session and I took home a bunch of positive feedback for the project as well as some suggestions on how we can possibly make it easier for Australian and New Zealand participants to join Makeover Monday, given the time zone differences.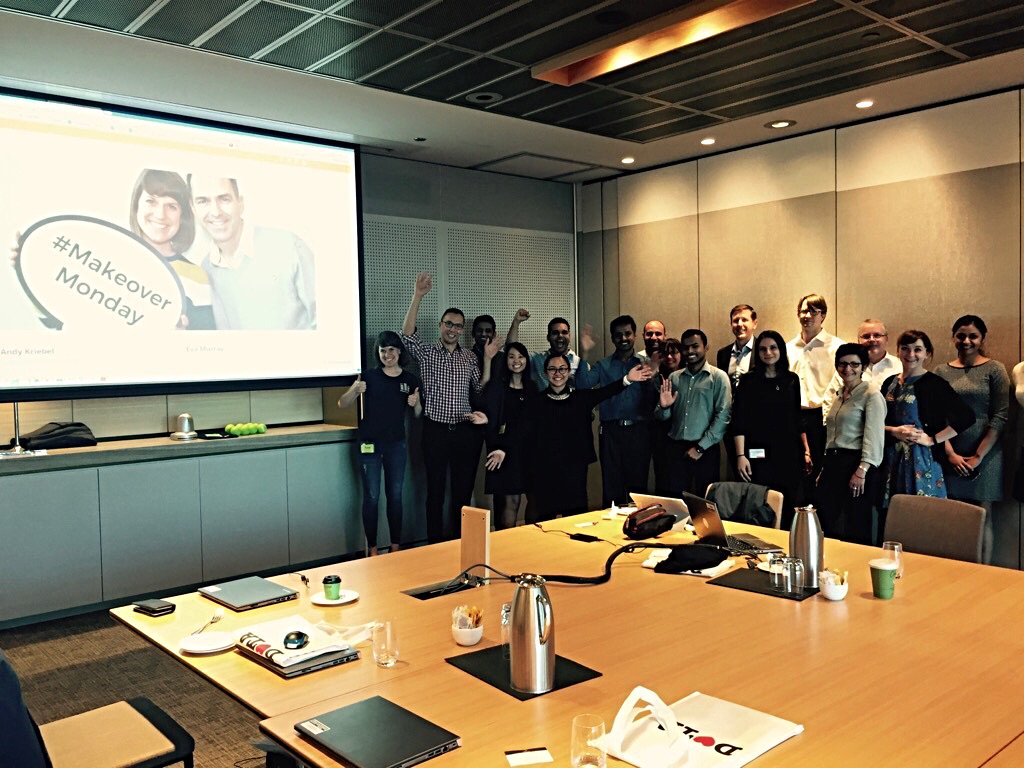 After a group photo at the end it was time to make my way to Makeover Monday live number two, which was a public event hosted by Tridant at Sydney's Hard Rock Cafe in Darling Harbour.
Kai and my dataviz wingwoman Fi came along and after some initial technical challenges, which resulted in rather amusing screen captures, we were underway for the evening event.
We had an audience of around 35-40 people, with some travelling all the way from Canberra to attend. Great stuff and I'm stoked to see such enthusiasm that results in people taking a bus trip of several hours…
With the assistance of drinks and really tasty food, we ran through my MakeoverMonday presentation of the project, and we even managed to get Andy dialled in all the way from Starbucks in London. While the audio setup made it difficult to have a proper conversation with him, everyone seemed to appreciate having him address the group, say hi and share some ideas and comments around the project and how it can help individuals build their skills and their profile in the community.
Again everyone got a chance to create a makeover during the event and after 55min we had presentations of 3 different makeovers from the audience. We saw interactive dashboards, static visuaisations, dynamic maps, bar chartsk, line charts and heard about people's approaches.
About half the room approached the task in pairs or teams of three, which I really liked because it gives people a chance to exchange ideas, figure things out together and learn from one another.
One moment I really liked was when one participant wanted to try out a technique she had seen at last week's TUG presentation from Deepak. She asked me how to do it and rather than getting my attempt of an explanation, I was able to walk 5 meters and get Deepak himself to help her as he was attending the event and he could share his 'dual bubble' trick directly with another user.
With the various levels of skills and backgrounds in the room, there was a healthy exchange of ideas going on throughout the evening as well as good networking over a beer and a burger.
Personally I was really happy to be surrounded by many like minded people who are genuinely interested in telling data stories and using data visualisation to bring different topics to life.
The feedback from the people I talked to has been very positive and I hope they will continue to participate in our weekly makeover challenges and might even use it as a way to setup their own internal user groups at work around a regular viz challenge.
I have offered to them and hereby to anyone interested that I'm happy to chat to them about getting such an internal group or meetup started. We're happy to help with ideas and suggestions, some 'customised' makeover datasets or a focus on a specific topic. You just have to ask 🙂
So all there remains to be said to the Sydney/NSW dataviz community is: Thank you for your support and your enthusiasm, for getting involved and for sharing your data stories with the global Makeover Monday community who enjoy seeing your take on the Sydney ferry data. We hope to see more from you and will work out a way to address the time zone challenges.
I also hope that some of you will make it to the event in Las Vegas. It'll be great to organise an Aussie catchup there.
See you next time!